Die Stadt Halle an der Saale hat seit kurzem einen eigenen "Fürstenzug" erhalten, so war es jedenfalls vor kurzem in der Presse zu lesen, wenngleich ein kleines Augenzwinkern anzumerken ist, denn an Art und Größe ist unsere hallesche Ausführung nicht mit dem Original in Dresden zu vergleichen.
Dennoch ist unsere Stadt um eine gehörige Attraktion reicher, denn werden hier am Neuwerk doch Szenen und historische Personen aus der Geschichte von Halle dargestellt. So finden wir Kardinal Albrecht, Martin Luther und aus neuerer Zeit Hans-Dietrich Genscher. Uns als Luckner Gesellschaft freut es besonders, daß auch das Kriegsende im Jahre 1945 eine würdige Darstellung fand. Dank finanzieller Unterstützung aus der Mitgliedschaft unserer Gesellschaft sowie eines Eigenanteils konnten wir uns an der Finanzierung des tollen Projektes beteiligen.
Das Ergebnis der gesamten Anlage kann sich sehen lassen und wir laden schon jetzt alle Bürgerinnen und Bürger der Stadt Halle ein, sich das neue touristische Highlight der Saalestadt anzuschauen, es lohnt sich.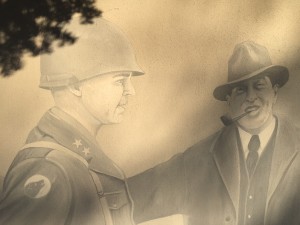 Auf den beiden Bildern links sehen Sie die beiden Künstler Benjamin Klisch und Sven Gutzeit bei der Arbeit, hier stellen Sie also gerade "unser" Bild her.
ONLY IN GERMAN AT THE MOMENT
Anläßlich der 100. Wiederkehr der legendären Fahrt der SEEADLER, welche in 1917 ihr Ende in einem heute zu Tahiti gehörendem Territorium nahm, gab die "Gesellschaft der Ozeanologie" (Société des Études Océaniennes) eine Erinnerungsschrift heraus mit umfangreichen Fakten, reich bebildert und sicher mit Arbeit und Energie hergestellt.
Diese in französischer Sprache abgefaßte Schrift sendete man unserer Gesellschaft zu unsere großen Freude zu. Mit gleicher Freude nahmen wir zur Kenntnis, daß wir in erwähnter Schrift eine Erwähnung fanden als der Verein, der sich das Gedenken an Felix Graf von Luckner und damit auch die Geschicht um die SEEADLER aufrecht erhält.
Die Schrift wird selbstredend ihren würdigen Platz in unserer Sammlung finden. Mit unserer Kontaktperson auf Tahiti wurde abgestimmt, daß wir in Verbindung bleiben, denn man hat dort Interesse an unserer Arbeit hier in Halle!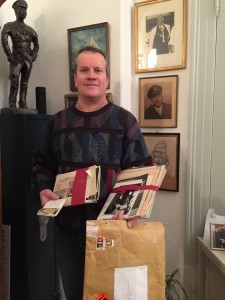 Today we have to express our deep thanks, but we do not know whom to thank.
The background is, that we received a big envelope containing a a large collection of items on the von Luckner issue, such as photos (some of them completely unknown for us!), newspaper articles and many things more. There was a writing enclosed explaing us, that the senders found the collection in an appartment at Kiel to be vacated. They were told to send these things to us and did like assigned.
Nowhere we could find an information on the sender, no name, no address at all.
So we decided to choose this way to express our deep thanks to those who donated this wonderful collection to us. We really hope that you will read this. Indeed the collection was preserved from being lost and will now be part of our collection. The items are in "good hands".
Thank you once more, we very much appreciate your donation.
Matthias J. Maurer
President
Dear members and friends,
at island Motuihe, where Count von Luckner had been interned as as POW, in November 5 this year the 100th anniversary of his escape was mentioned by a celebration. You must know that "our" Count in New Zealand is a kind of a hero and has not been forgotten up to now.
From Halle/Germany, unfortunately, nobody could be there but our President sent a note to New Zealand and they found one to read the words he had writte before. Obviously some liked it because we already received a reaction by one visitor. Thank you for this.
Enclosed you will find the message of our President …
Dear Ladies and Gentlemen,
dear friends in New Zealand,
it is an amazing story indeed!
The cruise of the Sea Eagle, becoming a Prisoner of War, the escape and recapture, you all will know about that story better than I do.
But there is more to be told on that issue, more about that Count to be told and you all should be happy that I am not personally among you, because now I would start talking for hours… no, just kidding, but indeed I could do so.
To be honest, I would love to be on Motuihe Island today and I send you my warmest wishes and regards on behalf of myself an on behalf of the international Felix Count von Luckner Society. Indeed, someday I will be in your country, I promise!
My first memories on Felix Count von Luckner are dating back to the early 90ies of last century. During researches I met veterans of the US Infantry Division who took my hometown Halle in 1945.
Not only one veteran emphasized:  "You should never forget Felix Count von Luckner, the famous sailor from World War I, the 'Sea Devil'. The city of Halle is in deep dept and gratitude to him."
"Felix Count von what?" I thought, and "… a sailor in Halle?" Maybe I had heard his name before, but did nothing know about this man and could smell a kind of mystery and adventure.
Of course, I wanted to know more, and during the years up to now I got much more!
I learned about the above mentioned "Cruise of the Sea Eagle", the time that Felix spend in the US, the amazing story of saving my hometown, the fact of rescuing a Jewish lady from being displaced to a concentration camp and many things more. I realized that the story to be told about Motuihe Island is a part of a big mosaic, a part of a life of one man! So many stories, could they fit in only one single life? Indeed, they did!
Felix Count von Luckner, in my opinion…, well, his name should not miss among the great names of the last century. He stood for peace and international understanding, the same reasons we are now organized in our Felix Count von Luckner Society.
Please, feel free to learn more of us, feel free to contact us. But for the moment stand together at Motuihe Island enjoying the moment. We will be with you in our hearts.
Best regards from Germany
Matthias J. Maurer
President of the Felix Count von Luckner Society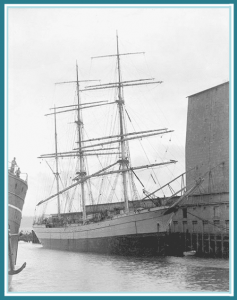 — ONLY IN GERMAN AT THE MOMENT —
Genau am 21.3.2017, also vor 100 Jahren, entließ Felix Graf von Luckner in seiner Funktion als Kommandant des deutschen Hilfskreuzers S.M.S. "Seeadler" viele gefangene Matrosen und Kapitäne verschiedenster Nationen in die Freiheit.
Vorangegangen war eine Kaperfahrt, bei der Luckner mehrere feindliche Handelsschiffe hatte versenken lassen, stets darauf achtend, daß das Leben der Seeleute an Bord der anderen Schiffe geschont wurde. So war letztlich während der gesamten Kriegführung Luckners nur ein Leben zu beklagten, das des englischen Seemanns Douglas Page.
Auf der "Seeadler" wurde es langsam zu eng, so daß sich Luckner entschloß, die neuerlich gekaperte französische Bark "Cambronne" nicht zu versenken, sondern diese als Freiheitsschiff einer neuen Funktion zuzuführen. Er ließ die Masten kürzen, bestimmte einen Kapitän und entließ sämtliche zuvor gefangene Seeleute in die Freiheit, wohl wissend, daß sein bis dato geheimer Kaperkrieg nicht mehr wie zuvor geführt werden konnte. Daher machte sich Luckner zeitgleich auf, über das Kap Hoorn in den Pazifik zu segeln, um dort weitere Schiffe kapern zu können.
Die von Luckner freigelassenen Engländer, Franzosen, Amerikaner und Italiener trugen die gute Behandlung auf der "Seeadler" in ihre Heimatländer, was die Basis dafür bildete, daß Graf Luckner letztlich weltbekannt und hoch geschätzt wurde.
Mehr Informationen zur "Cambronne" finden Sie >>> HIER <<<
On the 21st of December, the members and friends of the international Felix Count von Luckner Society sat together at the last "von Luckner meeting" of the Year and thought of the beginning of a legendary cape drive, because exactly 100 years ago the German auxiliary cruiser "Seeadler" was stabbed into the sea. Under the command of Count von Luckner, a truly unique history began, which ultimately formed the basis for the fact that the Count, in particular, was known and appreciated internationally.
Felix Count von Luckner later emphasized during his lectures that no enemy sailor had to leave his life, for he practiced a humane warfare. Well, one may doubt whether a war can be conducted at all humanly, but Luckner always tried to protect human life. He looked at and treated the seafarers caught by him as guests, not as enemies.
However – that "no" sailor had to leave his life, is not true, because one victim was unfortunately to complain.
The English steamer "Horngarth" was applied exactly 100 years ago, ie on 11 March 1916. For the men on the "Sea Eagle", a steamer was, of course, a special destination, one was even under sail, officially at least, because the auxiliary motor on the German auxiliary cruiser "Sea Eagle" the others could not see. For the captain of the "Horngarth", on the other hand, it was certainly a special disgrace to be inflicted by a hostile sailor, but he might have trusted in his machines, but this was of no use, for the "Sea Eagle" were not absolutely dependent on wind.
In the end, the German side commanded the use of the guns, in the face of the fleeing Englishman, shortly afterwards shells struck at the "Horngarth". At least one of them hit a steam line, hurting three English sailors. One of them succumbed to his injuries, despite many efforts for his life.
The sailor's name was Douglas Page.
We will recall the occasion, in particular this tragic incident, and will commemorate this English sailor at the "von Luckner Stammtisch", next Wednesday, March 15, 2017.
For further information on this topic, please click >>> HERE <<<
*****************************************