Count von Luckner Vault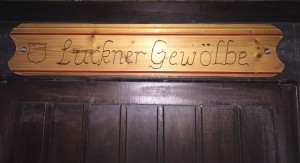 at the moment only in German
In 2010 we at the international exhibition "Boot" thought about the idea to have an own place to stay.
Our members Maurer, Muchau and Goedecke found a place in the souterrain of our headquarters. But these rooms were in a quite bad condition and needed more than a little restoration. But, indeed, we found money and man to get this issue done, but it took longer then anticipated.
Im Jahre 2010 wurde auf der größten internationalen Bootsmesse, der "Boot" in Düsseldorf, eine Idee geboren, und zwar von denjenigen, die den dortigen Stand unserer Gesellschaft betreuten. Die Herren Goedecke, Maurer und Muchau machten sich nämlich Gedanken über die Schaffung von eigenen Vereinsräumen. "Gefunden" wurden diese schließlich im Souterrainbereich am Geschäftssitz des Vereins. Allerdings waren die Räumlichkeiten in einem erbärmlichen Zustand und bedurften der umfassenden Sanierung. Noch im selben Geschäftsjahr begannen die Mitglieder mit den Arbeiten, welche letztlich erst im Jahre 2014 abgeschlossen werden sollten, denn neben den viele dankenswerten Eigenleistungen aus der Mitgliedschaft bedurfte es mannigfaltiger Bemühungen zur Finanzierung von Material und Fremdleistungen.
Seit dieser Zeit verfügen wir nunmehr über unser "Graf-Luckner-Gewölbe".,
Regelmäßig treffen sich die Mitglieder und Gäste nunmehr in diesem Räumlichkeiten zum Luckner-Stammtisch, welcher an jedem 3. Mittwoch im Monat abgehalten wird. Manchmal wird vor dem geselligen Beisammensein ein Vortrag angeboten, stets etwartet die Teilnehmer aber Neues im Hinblick auf die Arbeit unserer Gesellschaft.
Die Räume des Luckner-Gewölbes können für Veranstaltungen angemietet werden. Bei Interesse nehmen Sie gern Kontakt mit uns auf.