Gorch Fock I and other training ships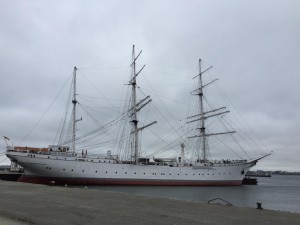 The President of our company recently took a trip to the Baltic Sea. The goal was the Hanseatic city of Greifswald, where he gave a lecture on the "Sea Devil" Count Luckner in front of the local boatmen's guild.
The next day he used the time to visit Stralsund, where in particular the former training ship of the Reichsmarine "Gorch Fock" (also called "Gorch Fock I") was his destination. On deck and below deck there were many new impressions and with many pictures and ideas in mind, Maurer approached the homeward journey towards evening.
For the upcoming Luckner Stammtisch (Wednesday, 17.4.2019 from 18.00 clock in the Luckner Vault) Maurer will report in the context of a picture presentation on the recent visit and take a look at the exciting history of the training ships of the German Navy to make the lecture "round" .
The topic is of particular interest, as Count Luckner was the first commander of the newly established sailing training ship "Niobe" from March to September 1921, which was unfortunately lost in 1932 in a tragic accident.
The event is public, interested parties are welcome.