Purchase of a lampshade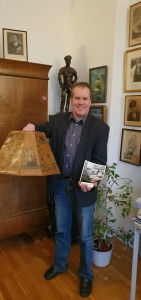 From a reliable source, we were able to purchase a lampshade that Felix Count von Luckner once owned and stood on his desk.
There was also a "proof photo" on which the Count can be seen sitting at his desk; the shade forms the background of the picture.
Also on offer was the door hanger that was once attached to the apartment door in the Count's apartment in Hamburg in Jungfrauenthal.
The entire bundle was kindly offered at a reasonable price, so that the members of our society who were present at a round table could raise the entire amount.
Shortly afterwards the package arrived safely. What joy.
As at this point, we would like to thank the provider sincerely for the generous courtesy with the price.
The lampshade will be another highlight of our museum.