First showing of the Film about von Luckners ship Seeteufel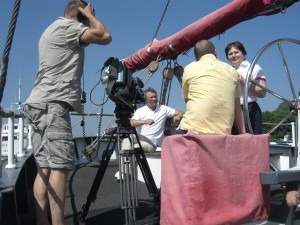 This is once more the information about the upcoming film, next Wednesday it will be shown for the first time. Please understand, that we have more information only in German.
Am kommenden Mittwoch, dem 18. September 2013, wird ab 21.15 Uhr im MDR Fernsehen eine neue Folge der Reihe "Spur der Schätze" gesendet.
In dieser Folge geht es um Graf Luckners Yacht "Seeteufel", die über viele Jahrzehnte verschollen war und erst nach der politischen Wende in St. Petersburg (Rußland) wiederentdeckt wurde. Unter sowjetischer Herrschaft war das Schiff in verschiedener Hinsicht genutzt und durchweg gut erhalten worden, nachdem die Rote Armee den heute unter dem Namen "Nadeshda" fahrenden Zweimastschoner mit einer Länge von fast 40 Metern zu Kriegsende 1945 in Warnemünde entdeckt und als Beutegut in die Sowjetunion geführt hatte.
Nachgezeichnet werden in dem von Steffen Lipsch hergestellten Film die Recherchen, die letztlich zur Wiederentdeckung und auch Rettung des Schiffes führten, denn zuletzt befand es sich in einem schlechten Zustand und stand kurz vor der Verschrottung. Nun steht sogar die Rückführung der ehemaligen "Seeteufel" zur Debatte! Eingegangen wird natürlich auch auf die historische Rolle des Schiffes und Episoden im Leben des Grafen Luckner.
Gedreht wurde für den Film in St. Petersburg, Rostock, Greifswald, auf Rügen, in Dresden und natürlich in Halle.